Fun With Kids In The Kitchen Cookbook: Spiral, 95 Pages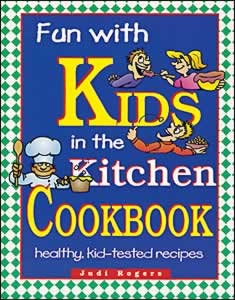 Has your dinner table turned into a battlefield because your kids hate vegetables?
Invite them to be active partners with you in creating healthy meals. Easy, kid-focused directions help them turn fresh fruits, vegetables, whole grains, and nuts into scrumptious treats no kid can resist.
From this christian cookbook kids will learn to be thankful for the food that God provides. This cookbook also encourages kids to read a page from their Bible everyday.
Healthy, Kid-Tested Recipes
This excellent cookbook is full of scrumptious vegetarian recipes that get kids excited about healthy eating. They'll love the delightful names, looks, and tastes of each creative dish. And you'll love the fact that they're learning to prepare and enjoy nutritious foods.
Here are some of the recipes included:
• Rocket Banana pops
• Animalwiches
• Apple Smiles
• Timothy Turtle Bread
• Edible Play Dough
• Vegetable Robots
• Super Stone Soup
• Garden Basket Salad
• Skinny Spaghetti
• Nifty Nachos
Along with the easy-to-follow, low-sugar vegetarian recipes, this cookbook includes color illustrations, party ideas and healthful treats, plus rainy-day fun activities!
Cookbook Sections
• All About Me
• Steps to Good Health
• Kitchen Rules and Tools
• Fun With Fruit
• Nuts and Bolts
• Bread, Grains, and Stuff
• Vegetable Parade
• Vegetarian Delights
• Cloudy Day Fun
Parent's Review: Just what the title implies – a lot of fun!
This is a very appealing cookbook for kids. Right off the bat my children were attracted to it because of the humorous, cartoon-like drawings that are sprinkled throughout. It is very easy to read and the recipes simple to do. Finally, the book is bound within a spiral notebook style so it can lay flat and is easy to handle. I would definitely recommend this book to anyone looking for a simple, starter cookbook for their budding chef!

Following a cute section entitled All About Me, come Steps to Good Health and Kitchen Safety. The recipes are separated by categories. They include: Fun with Fruit, Nuts and Bolts, Bread, Grains and Stuff, Vegetable Parade and Vegetarian Delights. It ends with Cloudy Day Fun which gives lots of neat ideas like pudding fingerpaints and making a chef's hat!

Each recipe is only one page long so it is easy to read and nicely spaced. Every page is illustrated with bright colors and humorous characters that depict the recipe. The author has done an exceptional job in laying out the recipe! A new reader could even follow along. First, there is always a cartoon guy carrying a sign saying "Adult Help Needed" if it applys. Then the author outlines each recipe in this clever pattern: READ the recipe, READY-get your cooking tools, SET the ingredients, GO-follow the directions! Finally she gives the cook some cute serving ideas.

This cookbook is just like what it's title implies…a lot of FUN! Any child interested in cooking vegetarian would enjoy using this cookbook. The recipes are easy to read, simple to do and offer a lot of success!

(FYI – The cookbook has religious undertones in its "Steps to A Good Health" Section as well as some advertisements in the back.)-Denise Steele Darnell